We're Here to Answer Your Questions
Why choose Integrity Pharmacy Consultants?
We're experienced, we're tenacious, we're entrepreneurs, and we know what it means to build a pharmacy, so we want to maximize your selling price.
We know how to negotiate and get the best price for your retirement or the next step in your career plan for you and your family. Take a moment to see what some of our clients have to say about our expert advice in negotiating better deals for their business and pharmacy. Read some testimonials from our clients.
We also provide immediate, qualified advice in making your business work better and understanding ways to improve key sales metrics that contribute to the value of your pharmacy. We know your business, we know your market prices and valuations, and we know how to make your business work better and realize the most value of your business.
How are we able to negotiate maximum value?
Experience, Tenacity, Expertise, and Determination.
Experience- We have learned through HUNDREDS of pharmacy sales the different aspects of a purchase contract that are negotiable, and to what level the terms can be negotiated.  Having the selling price and contract terms from hundreds of prior pharmacy sales, we can utilize these resources to maximize your selling price and optimize your contract terms.
Tenacity – Our work ethic, determination, follow-up, and persistence allow us to exceed our clients' expectations.  We challenge the norm and are driven to achieve the most optimal results for you and ALWAYS have your best interests in mind.
Expertise – We have accumulated the knowledge and expertise that can only be gained through the selling experiences of several pharmacies.  Our Pharmacy Consultants are Pharmacists with more than 20 years of pharmacy experience.  Most of our Consultants have either owned (and then sold their) pharmacies or have been involved with the purchase/selling of pharmacies in other roles; our knowledge and expertise are unmatched.
Determination – our Mission Statement is "Integrity Pharmacy Consultants' mission is to provide our clients with premier service, support, and expertise throughout your pharmacy sales transaction." We will never give up and fight as hard as we can for each owner that we help!
What sets Integrity Pharmacy Consultants apart from other consultants/brokers?
We believe that the best way to set us apart from others is to see what other owners have commented about their experiences working with Integrity-Rx – Please read through our
reviews
, all 5 Stars! 
Integrity – We will represent you with the utmost professionalism and you will never have to consider whether we have your best interest in mind.  We do not expect you to pay a fee if we do not help you sell your pharmacy; our listing agreements are non-exclusive. Exclusive Listing Agreements will make you liable to pay their fees whether they help you sell or not.  Please review the details of any agreements before you commit to working with a Consultant/Broker.
Knowledge and Experience – There are few others (if any) that have been involved in more pharmacy transactions than our Pharmacy Consultants.  The knowledge and experience gained working through these buying/selling transactions are invaluable with regards to leveraging the best outcome for you.
Relationships –While we always have your best interests in mind, fostering positive and respected relationships with key buyers is essential to providing you with optimal results.  These relationships are earned through years of networking in the industry.  Our services are always tailored to the needs of each individual pharmacy owner and you can be assured that we will keep you informed throughout the process.
Comprehensive Services – We will work with you from the very beginning, helping you with every step of the process through closing.  We will be onsite for the closing inventory to ensure that the pharmacy is prepared accordingly and we will audit the inventory counts to ensure you get the full value for your inventory.
How do I prepare to sell my pharmacy?
Partnering with us helps you understand the factors that affect your pharmacy's value, which is an essential first step. We will provide guidance on standardizing your business financials to help minimize any challenges or delays in selling your pharmacy.
How long does the selling process take?
It varies, but typically two to four months. We have closed as quickly as four weeks, while more complex sales have taken over six months.
What is my pharmacy worth?
The value of your pharmacy is typically determined by the buyer.  If the buyer is an Independent Pharmacy Owner/Group, your Adjusted Net Profitability and your Cash Flow will determine what someone will pay for your pharmacy.  You also need to consider the amount that a bank will loan a buyer to purchase your business.  If the buyer is a chain, they will use a combination of more than a dozen different metrics to determine a value; the most important is your location and the number of competitors in the general area.
Give us a call or send us an email.  We will send you an NDA so you feel comfortable that anything you share will be confidential.  We will review your pharmacy in an overview approach and answer any questions that you may have. We will provide guidance on standardizing your business financials.
Our Listing Agreement is Non-Exclusive! You will only pay a fee if we help you complete the sale of your pharmacy.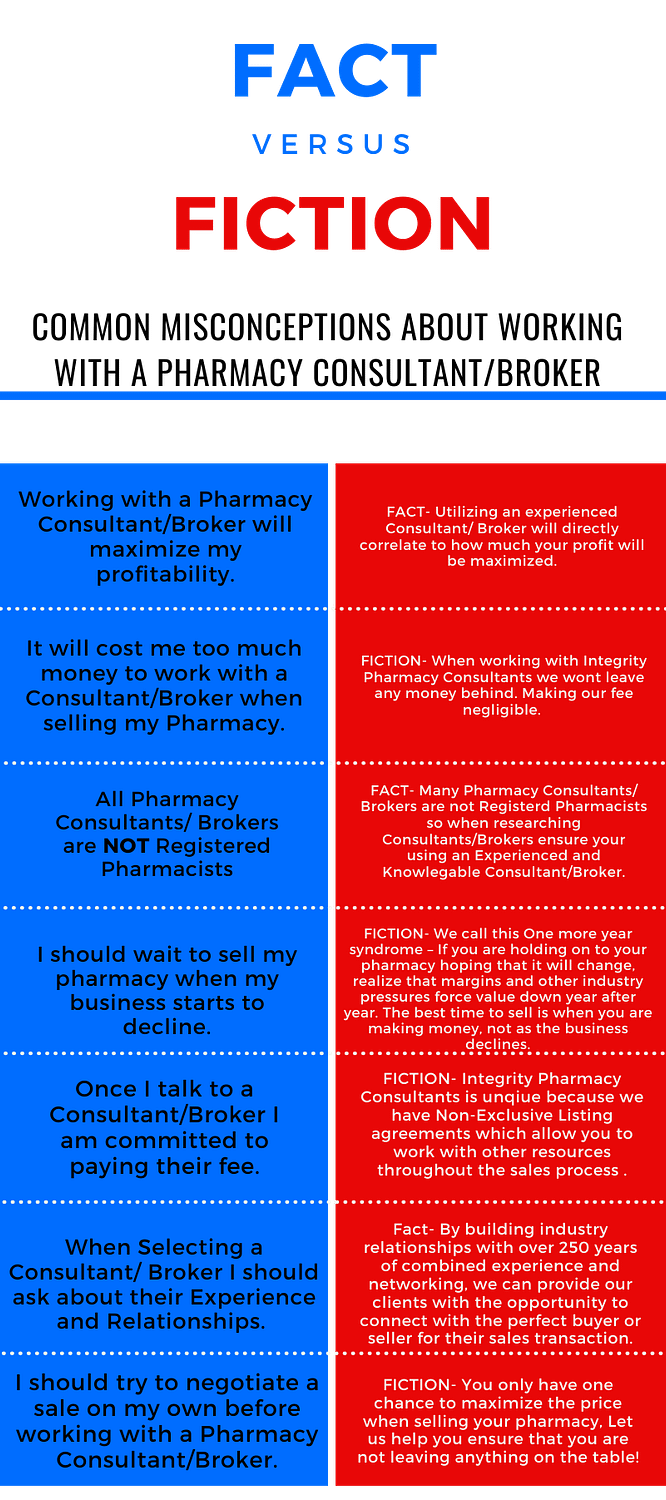 All communications will be treated at the highest level of confidentiality.